Sponge Profiles
Rubber Compounds and Material Properties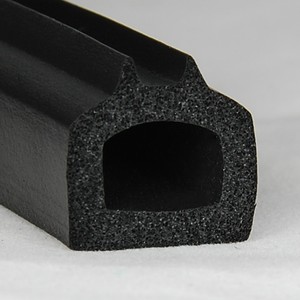 Sponge rubber profiles are made from neoprene, EPDM, nitrile, and other elastomeric materials. Known also as foam rubber or expanded rubber, sponge rubber is used for shock absorption and provides good compression and recovery. Although sponge rubber profiles are softer and less resistant to compression than solid profiles, foam rubber has a high strength-to-weight ratio.
Sponge rubber profiles are formed via extrusion, a production method that allows rubber goods to be run in continuous lengths of the same cross-section. Extruded rubber is manufactured using chemicals and additives such as flame retardants, fillers, cross-linking agents, and pigments or colorants. Sponge rubber extrusions are categorized as either open cell or closed cell, depending on their structure.
Open Cell Sponge Rubber vs. Closed Cell Sponge Rubber
Open cell sponge rubber contains interconnected pockets so that air, water, and other chemicals can pass through when the material is not compressed. Open cell foams are suitable for low-pressure and spring-action sealing, but are not recommended for weatherstripping. Additional applications for open cell sponge rubber profiles include cushioning and padding.
Closed cell sponge rubber contains balloon-like cells that hold nitrogen gas and prevent the passage of air or water at low pressures. Made of versatile, flexible materials, closed cell foams combine strong sealing capabilities with good compression and recovery characteristics. Neoprene and EPDM are used in many sponge rubber profiles. Silicone sponge rubber is suitable for high-temperature applications.
Technical Design and Custom Fabrication
Elasto Proxy also provides technical design and custom fabrication services to meet your unique sealing challenges. Ask our solutions providers how we can transform your sponge rubber profiles into gaskets by cutting sections to length and applying adhesive. Our water jet cutting machine eliminates tooling charges, and we can supply taped parts that use a heat-activated adhesive taping system (HATS).
Do you need help meeting sealing challenges and sourcing sponge rubber profiles based on firmness, material, and shape? Do you want a supply chain partner that will listen to all of your needs and analyze all of your requirements? How can we help you? For more information, please contact Elasto Proxy.