Edge Trim Overview
Wire Cores and Segmented Steel Cores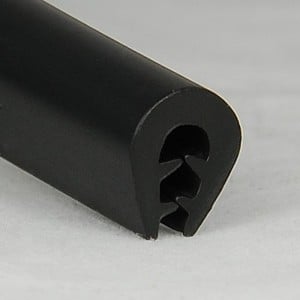 Edge trim with wire cores contains strands of metal wire that help the seal to absorb impact. Steel wire is often used in outdoor applications because of its ability to withstand impact under cold temperature and cold weather conditions. Edge trim with segmented steel cores may contain cold rolled steel that provides good elongation properties.
Rubber Compounds
Edge trim is often made of EPDM, a synthetic rubber that resists moisture and withstands temperature extremes. This closed-cell sponge material also provides a relatively high degree of electrical insulation. Unlike many elastomers, EPDM also exhibits superior UV resistance, making it a good choice for outdoor applications and vehicles such as trains, boats, and automobiles.
PVC edge trim is often used with interior applications such as storage cabinets. A lightweight plastic with a closed-cell structure, PVC withstands the absorption of water and will not swell like wood. PVC cracks at cold temperatures, however, and may become discolored from prolonged exposure to sunlight. When selecting rubber compounds then, it's important to consider all of your application requirements.
Dimensions and Density
Push-on trim carries lettered dimensional measurements such as A, B, C, and D. Durometer, a measure of hardness, is expressed in duro. Often, standard edge trim is made of medium density materials. Since solid profiles are the hardest and most resistant to compression, sponge profiles are oftenused instead because of their ability to absorb impact.
Technical Design and Custom Fabrication
Do you need help meeting sealing challenges and sourcing edge trim based on product specifications such as retainer configuration, rubber compounds, dimensions, and density? Do you need assistance with technical design, or do you need high-quality custom fabrication?
How can we help you? For more information, please contact Elasto Proxy.